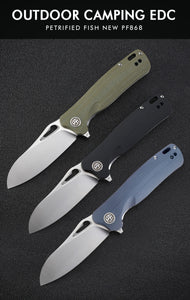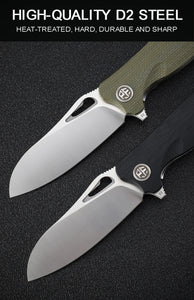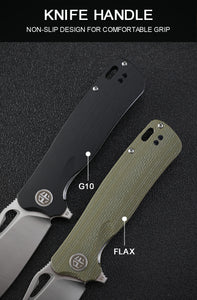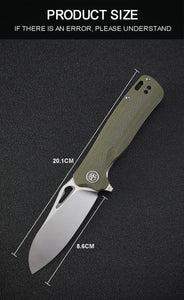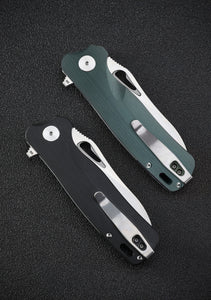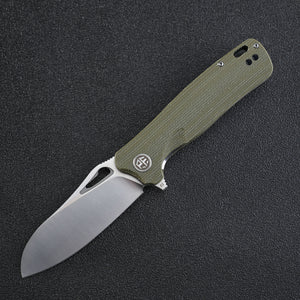 Quality above and beyond the price!
Bought this awesome knife a week ago love it , feels like an $100 plus knife, well built going to buy more knifes from this company in the future for my collection!
Great budget EDC
I've had this knife for roughly 6 months now and carried it everyday and beat on it. Other than a touch up on the blade after initial sharpening it is still shaving sharp! Only thing I wish is that i had a source for replacement/service parts as I have damaged the liner lock (by no fault but my own) and cannot find a replacement.
A favorite!
This knife has become a favorite user of mine, out of nearly a hundred blades on hand . It's somewhat unusual blade shape has proven to be exceptionally good at everyday tasks , like package opening, and its the only knife I use to cut those plastic rings , around soft drink bottles, as it's rounded tip slips under them, without risk of piercing the plastic bottle. Just one example of how handy this blade shape has proven to be . The scales are very hand filling, with a solid feel , and great comfort. The Bunta came exceptionally sharp, the action is as smooth and snappy as any of my much more expensive knives, yet another reason why it spends so much time in my pocket, while much more expensive knives sit on the shelf. Petrified Fish, imo , makes the best knives on the market, for the price . I have several, all flawlessly executed, none in need of the fine tuning that I take for granted in most other brands. When I see a Petrified Fish knife that looks intriguing, I have no hesitation in ordering it . I know it will live up to
my expectations, and more . Best value knives on the market.
Great knife
I just received this knife and straight out of the box it's a great knife for the price point. My only issue is that it took several weeks to arrive and only half my order came! After reaching out via email with the company, they offered a resolution but have not answered me in several days! I would like to get it resolved and get my other knife!
I've not even received it
Hello, my friend. Thank you very much for your patience. Your package has arrived in the United States and will be delivered to your destination in the near future