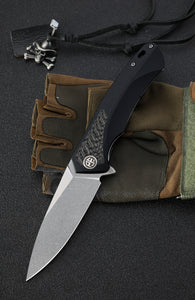 PG model 838C
I have been a knife fan since I was a pre-teen. I have carried a knife for well in excess of fifty years, and I am very impressed with my Petrified Fish 838C. I don't believe I have ever had a knife with a better ratio of value to quality. My only criticisms are minor. I would prefer (but not expect, at this price point) ceramic bearings to steel, and if possible, for it to be a bit lighter, without it being any less robust (if possible) as it is at present.
Best knife for the money out there!
I have purchased 7 of these great knives. They are truely one of the best EDC knives out there! Love them!!!
One of my favorite knives
This is probably the most comfortable knife I own and it looks great! For the money, I don't think it can be beaten.
Solid and robust .
This is an exceptionally solid knife, suitable for harder use than most edc folders , under $100. It's hand filling scales make it comfortable when applying force , it's blade shape is versatile, whether piercing or cutting. The D2 could have a bit better edge retention , (other PF D2 and K110 blades do), though it's very easy to sharpen , though it holds an edge well enough. It's a bit on the heavier side , a reflection of it's capabilities. If it were lighter, it wouldn't be as robust. If you want a capable, do anything knife, look no further.
FANTASTIC VALUE AND AMAZING DESIGN
I own some of the best folders around, Benchmade, ZT and many others, this PF model is so good, I purchased six. Action and workmanship is great and all knives found to be very sharp. The Deep Sea model was my first PF, many others of the line followed. Time will tell how the D2 holds up.